CEE Economic Scorecard 2013 - a sustainable future in a great region

PwC


The report co-authored by
prof. Witold Orłowski


read
The region of Central and Eastern Europe experienced a huge change over the last two decades. Its successful transition from a state-run, inefficient and closed economic system to a developing and competitive market economy was a genuinely historical achievement.The scorecard presented in this report is a tool for comparing various aspects of the business environment in the countries of the region.
---
Global University Entrepreneurial Spirit Students' Survey - GUESSS


WUT Business School became a partner of the international research project GUESSS. It is a research project about the context of entrepreneurship. Its purpose is to grasp the entrepreneurial intent and activity of students using a geographical and temporal comparison. Data is gathered using an on-line survey. The first survey wave took place in 2003, and the sixth one has started in October 2013.
more
---
Commercialisation of scientific research in Poland.

prof. Witold Orłowski
read
(in Polish)
The main conclusion derived from Professor Orłowski's report is the statement that the public expenditures on research and development have reached their limit. From now on, this area of market should be financed by private companies. The report emphasizes that it is necessary to introduce changes to Polish scientific institutions and to enfranchise the scientists, i.e., give them the rights to inventions.
---
Value creation in e-Business and Financial Performance

prof. Sylwia Sysko-Romańczuk
So far there have been only a few attempts to empirically test the relation between the drivers of value creation and the financial e-business performance with a quantitative approach, though the outcomes were rather inconclusive and context sensitive. In 2013 we published the results of our survey study investigating links between modes of value creation and profitability of Polish internet companies. The findings revealed that out of four elements comprising a value creation model, that according to Amit and Zott's taxonomy (2008) comprise novelty, complementarities, customer lock-in and efficiency, only the complementarities were statistically significant predictors of financial performance.
The key objective of the proposed research is to test the link between the adopted value creation model (originally proposed by Amit and Zott, 2001) and the financial performance of e-business companies sampled from a wider set of European countries.

Advanced Ultraviolet Radiation and Ozone Retrieval for Applications—Surface Ultraviolet Radiation Products
Andrea Masini, Antti Lipponen, Simone Ceccherini, Ugo Cortesi, Marco Gai, Arno Keppens, Emilio Simeone, Cecilia Tirelli, Antti Arola

Download the article


Are They All Equal? Uncovering Adopter Groups of Battery Electric Vehicles
Andrea Masini, Lukas Burs,Ellen Roemer, Stefan Worm

Download the article




Primary nonadherence to medication and its drivers in Poland: findings from the electronic prescription pilot analysis
prof. Marcin Czech, Przemysław Kardas, Janusz Cieszyński, Izabela Banaś, Paweł Lewek


Download the article




Rozwój współpracy w zakresie oceny technologii medycznych w krajach Unii Europejskiej
prof. dr hab. Marcin Czech, mgr Malwina Hołownia-Voloskova, mgr Aleksandra Baran-Kooikern

Download the article




The XXIV Conference "Classification and Data Analysis – Theory and Applications" 14-16 September 2015, Gdańsk, Poland
Krzysztof Jajuga, Marek Walesiak



Download the article




Impact of IT offerings strategies and IT integration capability on IT vendor value creation
Andrea Masini, Federica Ceci, Andrea Prencipe




Download the article




Real-World Evidence of Patient Outcome Following GIST Treatment with Imatinib, Sunitinib, and Sorafenib in Publicly Funded Health Care in Poland
prof. Marcin Czech, Melania Brzozowska, Waldemar Wierzba, Sylwia Szafraniec-Burylo, Joanna Polowinczak-Przybylek, Piotr Potemski, Andrzej Sliwczynski

Download the article




Overview of regulatory initiatives in the European Union to stimulate research and accelerate access to orphan drugs and other high medical need products
prof. Marcin Czech, Aleksandra Baran-Kooiker, Coen Kooiker

Download the article




Non-surgical in-hospital mortality predictors: a multivariable regression analysis of 2,855,029 hospitalizations
prof. Marcin Czech, Magdalena Walicka, Marcin Maciej Chlebus, Andrzej Śliwczyński, Melania Brzozowska, Daniel Rutkowski, Agnieszka Tuszyńska, Andrzej Jacyna, Monika Puzianowska-Kuznicka, Edward Franek
Download the article


Relationship Marketing and its Role in the Experience of International Students in the United Kingdom Higher Education Institutions

dr inż. Grażyna Rembielak, Trevor Omoruyi
Download the article
---
Insights into the Choice and Decision Making to at a Selected British University in the Example of Polish Students at the University Global Fair in Poland

dr inż. Grażyna Rembielak
Download the article
---
Social Cues-Customer Bahaviour: The Mediatating Role of Emotions and Cognition

dr inż. Grażyna Rembielak, Nawras M. Nusairat, Abdel Hakim O. Akhorshaideh, Tahir Rashid, Sunil Sahadev
Download the article
---
International students and motivation to study at postgraduate level - some evidence form China

dr inż. Grażyna Rembielak, John Wilson, Xiang Li
Download the article
---
Design factors-customer behaviour relationship: The mediating role of emotions and cognition

dr inż. Grażyna Rembielak, N. Nusairat, T. Rashid

Download the article
---
Determinants of Customer Retention and Loyalty in Nigerian Banking Sector

dr inż. Grażyna Rembielak, Trevor Uyi Omoruyi
Download the article
---
Keeping the Cash Flowing. The principles and practice of modern trade credit management in Poland's economy market.

Robert Patterson, Małgorzata Wejer-Kudełko


This book explores an important but often neglected aspect of a firm's finances: trade credit management (TCM). When firms offering credit to each other so purchases can be made on open account it is a vital source of business-to-business credit flows. Trade credit is the life-blood of competitive economies. The book explores the topic from many angles and is anchored in the hard realities of Poland's marketplace.


Order the book
---
Capital Where it is Wanted.

Robert Patterson, Mariusz Kicia
In an accessible and structured way this book discusses basic issues of corporate financial management. It is also an exhaustive compendium of professional terminology used in everyday business practice. Its additional advantage are the Polish and English language versions which will be useful both for students of economics as well as other readers, including those who are preparing for professional examinations or who work in an international environment.
Polish version of the book is also available.


Order the book
---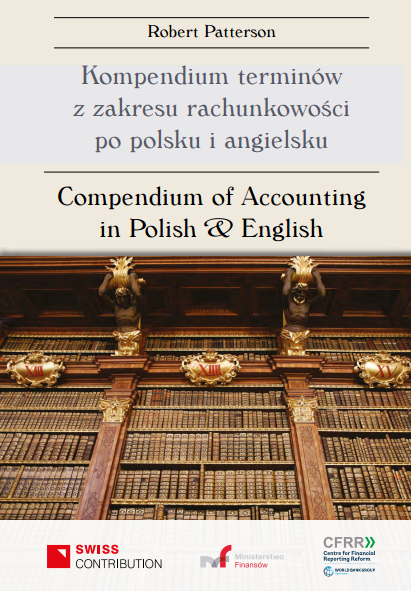 Compedium of Accounting, Finance and Banking
edited by Robert Patterson
The Polish-English Compedium of Accounting, Finance and Banking is available on Ministry's of Finance website.
Accounting >>>
Banking >>>
Finance >>>
---
Przedsiębiorczość nowych mediów – analiza modeli biznesowych firm internetowych
edited by Irena Hejduk

Publication co-authored by prof. Sylwia Sysko-Romańczuk.

The 19th century industrial revolution has changed the societies and has created scientific management. Currently visible changes will lead to further technical revolution and will generate the need to verify foundations of management. In 1982, Robert Nasbitt in his work entitled "Megatrends", listed trends such as decentralisation, networking, high technologies, information society. Nowadays, we have the opportunity to see these paradigms operate in practice.



---
Zarządzanie oświatą, v. 2
edited by Mikołaj Herbst

Publication co-authored by

prof. Sylwia Sysko-Romańczuk.



The book is part of a series "Library of Autonomy Education", which is a collection of 6 publications dedicated to entities of territorial government in Poland. The series enables the local governments to recognize the problems of education and encourage them to create strategies for schools and institutions controlled by them.



---
Świat do przeróbki. Spekulanci, bankruci, giganci i ich rywale.


prof. Witold Orłowski



The global crisis in 2008 overthrew many economical taboos. It shook banking industry and stock markets. It jeopardized financial solvency of great countries. It showed the weaknesses of European and American economies. When will the crisis end and what will the world look like afterwards? How do ecology and technology influence global changes? Professor Orlowski's book offers answers to these questions.



---
W pogoni za straconym czasem. Wzrost gospodarczy w Europie Środkowo-Wschodniej 1950-2030


prof. Witold Orłowski



The author provides an analysis of the economic growth in Central and Eastern Europe starting from 1950 (referring back to historical and cultural causes of the developmental processes in the past millennium) and ending in 2007. He also considers the possibilities of region's development up to 2030.


---
Świat, który oszalał, czyli poradnik na ciekawe czasy
prof. Witold Orłowski

The world has gone crazy. Suddenly we have fallen into the very middle of a huge economic crisis. Banks have bankrupted, stock markets have crashed, the recession is waiting at the doorstep. What happened? Why did it happen? What will the future bring? This book tries to find answers to these questions. It explains economic matters using a simple language because it was written to help all of us understand what is happening these days.