Leading into the Future through new technologies
---
dr inż. Grażyna Rembielak
Executive MBA Programme Director

The rapidly changing environment makes it imperative to equip managers with necessary skills and knowledge to meet their needs and challenges in the global business world and to transform them into successful business leaders. Your participation in the Executive MBA program will be an invaluable investment in your own personal development as it will provide you with a competitive advantage for your career and success in the modern business world.


A prestigious, international, part-time study programme in English, for BA and MA graduates, with a minimum 3-year work experience.
The Executive MBA Programme offered by the Warsaw University of Technology, the best technical university in Poland, is characterised by a real-life approach that is combined with outstanding academic standards and a deep understanding of technologies of tomorrow. The EMBA programme was designed in order to meet the expectations of high- and mid-level managers. Our programme opens new doors and allows to understand the latest trends and challenges in a fast-changing business world.
Our MBA programme was ranked 1st in the "Alumni Opinion" in the Perspektywy MBA ranking.
It was also classified as the best Polish MBA in Europe according to the QS ranking and the most popular according to Find MBA.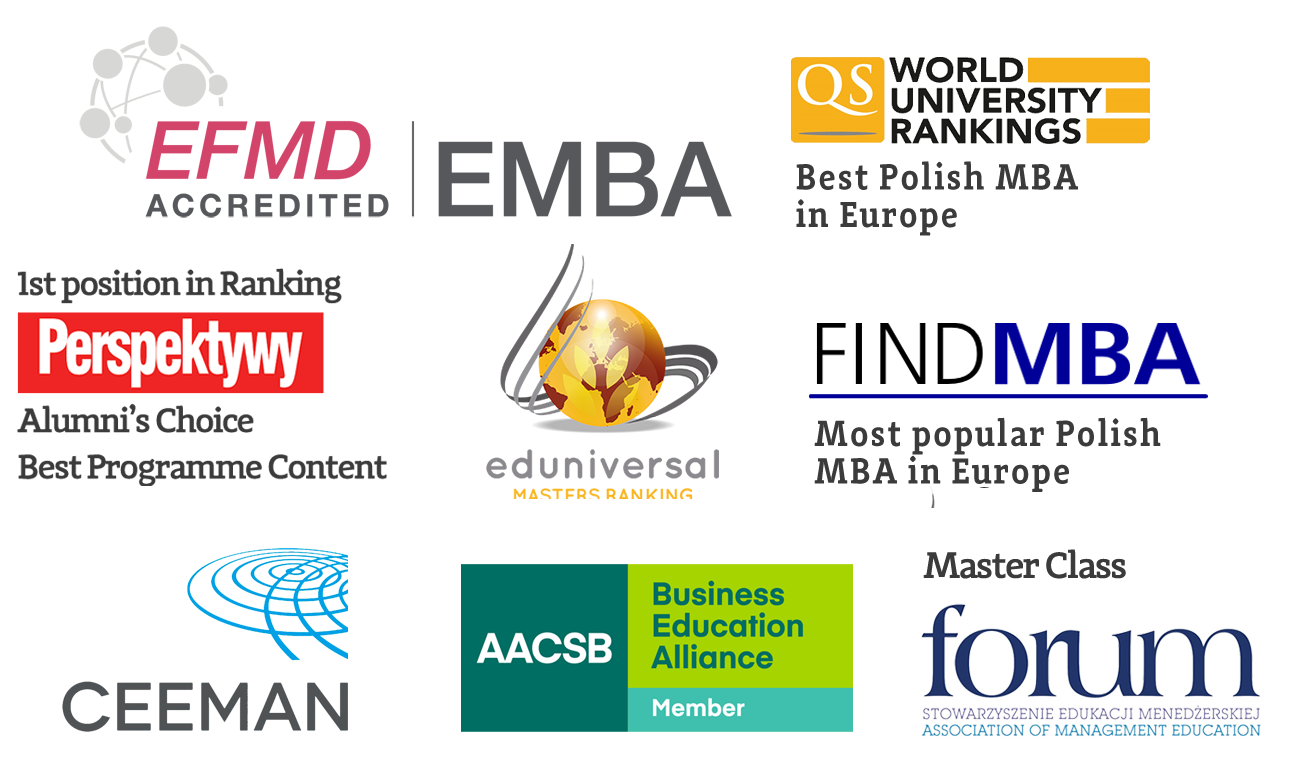 WHAT MAKES OUR PROGRAMME UNIQUE?
BENEFIT FROM BEST INTERNATIONAL PRACTICES
Learn how to respond to current and future challenges with best global standards
- World-class academic professors and practitioners from Poland and abroad
- 29 years of experience in delivering MBA programmes in cooperation with the Founding Partners: HEC Paris, the London Business School and the Norwegian School of Economics
- 5-day study visit to the City University of New York, Baruch College included in the fee
- Choice of 20 specialised modules in Warsaw and at School's international partner universities: Baltic Management Institute (Vilnius), Politecnico di Milano (Milan) and Management Centre Innsbruck (Innsbruck)
- EFMD-accredited programme fully delivered in English
LEARN ABOUT BUSINESS TRANSFORMING TECHNOLOGIES
Master how to manage innovative organisation in the era of change and digital transformation

- Over 100 hours of classes devoted exclusively to entrepreneurship, innovation and implementing new technologies in business
- NEW! New Venture / Product Project carried out in cooperation with the MIT CEE Forum start-up accelerator (Massachusetts Institute of Technology, USA)
- Project-based learning combined with individual tutoring by experienced business practitioners in the areas of business data analysis, CSR, innovation and consultancy
ACCELERATE YOUR CAREER
Customized, skill-focused curriculum

- Flexible study formula – diploma after 3 or 4 semesters.
- 1,5-year individualised Personal Development Programme, including series of Transformation Labs, leadership competencies diagnosis and one-on-one mentoring sessions
- Client Experience- the highest level of satisfaction, even up to 93% according to students!
- Carefully selected, diverse study groups
- Free access to Talent Tree career services and the biggest MBA Alumni network in Poland
- Diploma recognised and highly valued both in Poland and internationally
Politecnico di Milano | The City University of New York | Baltic Management | MCI the Entrepreneurial Baruch College Institute School
University of Salford Manchester | Goa Institute of Management | Donghua University

Participation in the Executive MBA programme is also a chance to co-create the New Venture / Product Product Project initiative, a start-up project. made within the cooperation with MIT Enterprise Forum CEE, a technology accelerator at the Massachusetts Institute of Technology, the best technology university in the world. Take advices from experienced experts and increase your chances of market success!
Additional benefits and services:
Friday@Five – meetings with well-known personalities from the business and social-economic worlds
Talent Tree – Career consulting centre

SAAMBA – membership in the Business School's alumni association
Brand Pro – International certificate in the area of marketing
Life-long learning – all the School's programmes and modules are offered to EMBA alumni at discounted prices
Flexible study formula >>> MORE
| | |
| --- | --- |
| Duration: | 1.5 year, part-time |
| Language of Instruction: | English |
| Number of Instruction Hours: | 3 semesters, 500 hours + circa 300 hours of optional specialised courses; programme divided into blocks of subjects >>> more |
Class hours:
| | |
| --- | --- |
| Friday: | 6.00 p.m. – 9.15 p.m. |
| Saturday | 8:15 a.m. – 5.30 p.m. (including one-hour lunch break) |
| Sunday: | 8:15 a.m. – 3.30 p.m. |
Programme blocks:

EXECUTIVE ECONOMICS MACRO-MICRO PERSPECTIVE: Macroeconomics, Microeconomics
MARKETING & SALES MANAGEMENT: Marketing Management, Digital & Social Media Marketing, BrandPro simulation game, Sales & Negotiations
MANAGING PEOPLE AND ORGANISATIONS: Human Resources Management and Talent Development, Organisational Behaviour, Change Management, Compliance Management
CORPORATE FINANCE & RISK MANAGEMENT: Accounting for Executives, Financial Statements for Executives, Corporate Finance & Financial Performance, Private Equity
MANAGING PROJECTS, OPERATIONS AND DIGITAL TRANSFORMATION: Operations Management, Business Information Systems & Business Analytics, Entrepreneurial & Innovation Management
STRATEGIC MANAGEMENT: Strategic Management, Strategic Communications, Strategy Execution
SOCIAL RESPONSIBILITY: Social Impact Lab

Students are required to complete at least three elective modules (choice of subjects in Warsaw, Vilnius, Milan, Innsbruck).
FIND OUT MORE >>>

OPTIONAL STUDY VISITS:

Executive MBA students have a chance to take part in the New York City study trip. As part of the programme, they attend a business seminar in The City University of New York, Baruch College, one of the School's partner universities.

WUT Business School's students also have the incredible opportunity to take part in optional study visits to China and India. These visits give students a unique insight into the respective business culture thanks to tailor-made meetings, seminars and networking events with local entrepreneurs, CEOs and recognized experts.
Teaching sessions take place 1-2 times per month.
| | |
| --- | --- |
| Location: | WUT BS building, Koszykowa 79, Warszawa. |
| | |
| --- | --- |
| Course start: | 15 October 2021. The EMBA programme starts in October. The second semester commences in mid-February. The course runs to the end of July of the following academic year. |
| | |
| --- | --- |
| Teaching and learning methods: | Modern, interactive teaching and learning methods are used in our School, including case studies, discussions, computer simulations, management laboratories, management workshops and business projects or virtual discussion groups. Students are actively engaged in learning. In every programme block, lectures are given by professors from partner institutions. An important element of the Executive MBA programme is the final project and its implementation in partner/client companies allowing students to put knowledge into use through practice. |