Programme blocks
In response to modern business world expectations, Warsaw University of Technology Business School has transformed an out-of-date traditional structure of managerial programmes into an innovative THREE PILLARS approach which aspires to shape advanced leaders.
All programmes offered by WUT Business School are based on those three pillars: Knowledge for Business, Business in Action and Personal Development. These result in a responsible, effective and competent leader, capable of facing modern world challenges.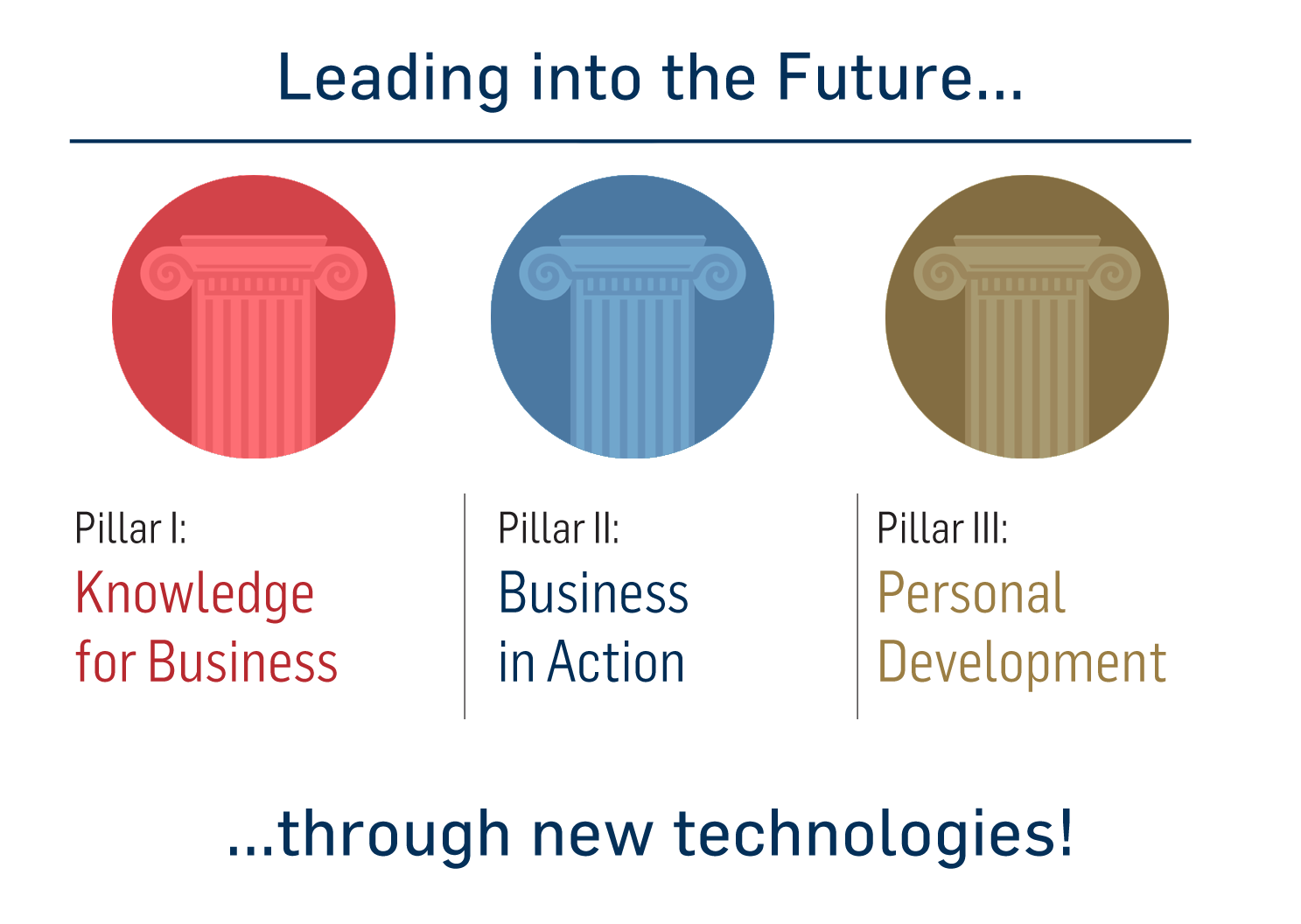 Pillar I: Knowledge for Business
It is a set of standard areas of knowledge and skills necessary for versatile managers aspiring to become a fully-fledged leader one day. Knowledge for business covers, among others, economics, finance, accounting, marketing, operations management and legal aspects of business activity, strategy, management control and information systems, and human resources management.
Core Course Executive MBA Katalyst
Executive Economics

Accounting for Executives

Marketing

Operations Management

Financial Instruments

Business Ethics

Interpretation and Analysis of Financial Statements

Strategy and International Management

Organizational Behaviour

Human Resources Management and Talent Development

Innovations in Digital World

Entrepreneurial Management

Business Model Transformation with New Technologies

Legal Aspects of Business Activity
Elective Courses By choosing a set of Elective Courses, students can get more concentrated expertise in the industries, functions, and ideas that interest them most.Courses available in previous editions.
Digital and Social Media Marketing
Big Data
Business Strategy in Globalised Economy
Business Transformations and Project Management
Complexities of Financial Decisions
Consultative Selling
Baltic Management Institute:
Executive Presence

Negotiation Skills

Managing People and Change in Organisations

Financial Accounting

Management Accounting and Control

Digital Management

Operations & Supply Chain Management

Politecnico di Milano
Pillar II: Business in Action
The Business in Action pillar consolidates the knowledge and skills from various areas in the process of solving complex and multidimensional problems. The pillar operates through special workshops and business projects delivered by students. Business in Action is a sort of cutting-edge executive training that trains you in the four roles needed for business: an investor, an entrepreneur, a consultant and a new CEO.
Research ProjectPreparation of the formal research paper in the area of economics and management. Analyzing the problem and presenting the outcome of the research.
What do you gain?
Development of the analytical and advocacy skills.
New Venture ProjectAn exercise in creating highly innovative business projects - a hypothetical start-up company. Students must shape the project, create a feasible business plan and convince the investors to finance it.
Find out more >>>
What do you gain?
The ability to follow the entrepreneurial process of taking an idea, finding a high-potential commercial opportunity and developing a new venture with excellent business model.
Consultancy ProjectSolving real-life problems of existing companies. Students examine the problem, make a fact-finding trip and deliver a consultancy report for the firm. The exercise has an international dimension.
What do you gain?
The ability to define, analyze, and find solutions to real-life, complex business problems.
Pillar III: Personal Development

Personal DevelopmentIf you're in the course of preparing a complex development plan of yourself as a manager and/or leader, one thing you should definitely remember about is appropriate attending to your interpersonal skills. Numerous real-life cases prove their crucial role both in establishing and maintaining business relations, and in an overall efficiency and well-being of people within their professional environment.
What do you gain?
Individual diagnosis and systematic development of your leadership competencies with the use of tailor-made WUT BS tools
Developing your advocacy skills
Effective career planning methods and tools
WUT Business School offers a Personal Development Programme which is a unique combination of:
- Diagnosis and individual feedback on your personal strengths and areas for development
- Practical strategies for effective development of interpersonal skills
- Opportunity to confront the vision of your career with the market reality
The Programme consists of four complementary elements:
1. Get an Insight – you will get an opportunity to diagnose yourself through Core Leadership Competences 360o assessment, and a solid set of tests providing insights into your behaviours in various business contexts (teamwork, leadership styles, conflicts etc.)
2. Define Your Development Goals – you will get an individual feedback session on the results of diagnosis and, with our support, prepare your individual personal development plan.
3. Practice Efficient Interactions with Others – you will participate in a series of workshops shaping your skills related to: teamwork, communication and presentations, negotiations and coaching leadership style.
4. Prepare SMART Career Progression Plan – you will have an opportunity to participate in a General Interview organized by renowned executive search companies which cooperate with the School; the purpose of GE is to give you an insight into how your professional competences are assessed by experienced recruiters in terms of their compatibility with your career objectives.
Optional study visitis
WUT Business School's students have the incredible opportunity to take part in optional study visits in India, the USA or China. It gives a unique insight into the respective business culture thanks to tailor-made meetings, seminars and networking events with local entrepreneurs, CEOs and acknowledged experts.