We invite you to the Open Lecture Executive MBA Katalyst and the information meeting for candidates.
Digital Disruption: how Fintech companies are pushing Incumbent Financial Institutions to change or die!
Wednesday, 26 September at 6 p.m.
The lecture will be led by Michał Pawlik.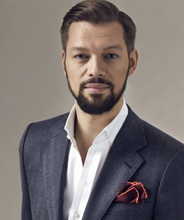 Michał Pawlik
is a co-founder and CEO of SMEO SA. The company is an innovative online invoice factoring firm in the FinTech sector targeting its services to medium-sized enterprises (SMEs).
He is a leader and visionary with over 12 years of experience working in top-tier financial institutions in Poland and in the USA. Co-founder of Idea Money SA - the largest factoring company operating in the SME market, he also established eFaktoring.pl - the first Polish online factoring company. Michał is an expert in and an enthusiast for new technologies who takes time to mentor and support startups, encouraging the development of the Polish FinTech industry.
The second part of the meeting will be devoted to the recruitment for the Executive MBA Katalyst programme.

Information meetings are not only a lecture, presentation of MBA studies, meeting with lecturers, alumni and students, but above all, it is a great opportunity to get answers to questions that bother the candidates and feel the atmosphere of the School.