News
Zarządzanie sobą i morale zespołu w trudnych czasach
Take part in online debate with WUT BS lecturers, on Monday, 30 March, at 5:00 P.M. You will learn about management tips helping you not only to manage yourself effectively, but also strengthenthe team's morale in difficult times or coronavirus pandemics.

The debate will be hosted by:
Jacek Santorski
Business psychologist and psychotherapist. Director of the Academy of Leadership Psychology at the WUT BS. Author of several books, highly valued speaker and consultant. Promoter of the psychology of good life and healthy business.
Prof. Witold Orłowski
Professor at the WUT BS. An outstanding economist. Head of the team of advisers to the President of the Republic of Poland, adviser to prime ministers and the European Commission. Member of the Committee of Economic Sciences of the Polish Academy of Sciences and the Forecast Committee of the Polish Academy of Sciences. Author of six books and author or co-author of over 100 scientific publications.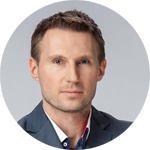 Sebastian Burgemejster
Manager with experience in internal and external audit. For many years the head of the internal and external audit unit at the Polish Air Navigation Services Agency. Expert and external consultant during the implementation of audit, implementation and consulting projects for large state and private institutions in the field of integrated management, security and IT systems. Experienced in the implementation and audit of information security management systems.