---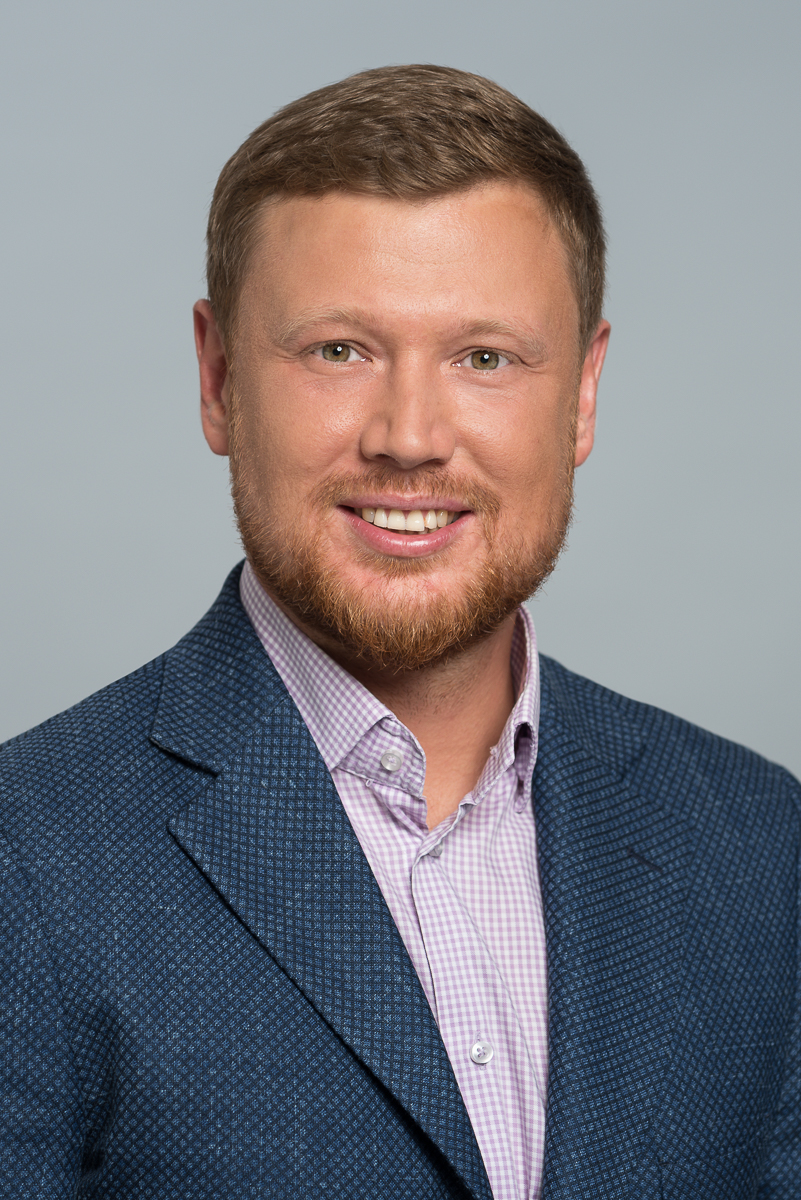 Tomasz Tuszyński
Postgraduate Studies in Accounting & Finance Graduate
"With Robotic Process Automation and Artificial Intelligence around the corner the whole world (and Poland in particular) needs financial experts that can think and challenge things instead of processing simple transactions. Those who are able to find new solutions for problems that were not existing before and create future solutions, cannot be easily replaced. In order to do so, we need to know and understand how the complex corporate world among us works. And finance & accounting in particular is the language of the business. I can give my credentials to the teaching team of WUTBS as they are focused and committed on delivering the true student learning environment and professional knowledge while motivating and pushing their students forward."

Core programme
This is the foundational programme leading to a Diploma in Postgraduate Studies in Accounting & Finance issued by WUTBS. The WUTBS programme has been accredited by ACCA allowing exemptions in ACCA exams from F1-F9. The core courses are in management accounting, financial reporting and financial management. Course content will closely mirror ACCA syllabuses in F5, F7 and F9 respectively.

Pilot (or "demonstration") exam papers are designed to demonstrate the syllabus content and degree of difficulty of the programme's examinable courses. Our syllabus closely mirrors ACCA's syllabuses in order to qualify for exemptions. Actual exams will closely mimic the pilot papers although exact content and calculations will vary from exam to exam. Mid-term tests will be equivalent to 'mini-exams' which are completed 1.5 hours. The first 2 tests will be in Polish; the 3rd in English. For core courses, 3 x 15% tests will constitute 45% of final grade; 55% will be a 3 hour final exam in English.


Information on Exempted Papers
Candidates admitted to the Programme receive automatic ACCA exemptions for three Foundations level papers (F1-F3) and one Fundamentals level paper (F4). Teaching for WUTBS Diploma papers will assume this general level of knowledge. For details on the exemptions, please see below.
F1: The Accountant in Business
F2: Management Accounting
F3: Financial Accounting
F4: Corporate and Business Law (Global Version)
Sample exams & answers
Optional streams
Optional streams the core programme can be supplimented by two possible optional studies:
1. ACCA Diploma - candidates can chose to study and write exams in Taxation (ACCA's F6) and Audit and Assurance (ACCA's F8) and thereby qualify for an Advanced Diploma in Accounting and Business granted by ACCA.
2. ACCA GBS Certificate - candidates can enrol in an on-line learning course leading to an Advanced Certificate in Global Business Services granted by ACCA. Candidates must also sit for a re-write exam in Financial Management (F9) conducted by ACCA.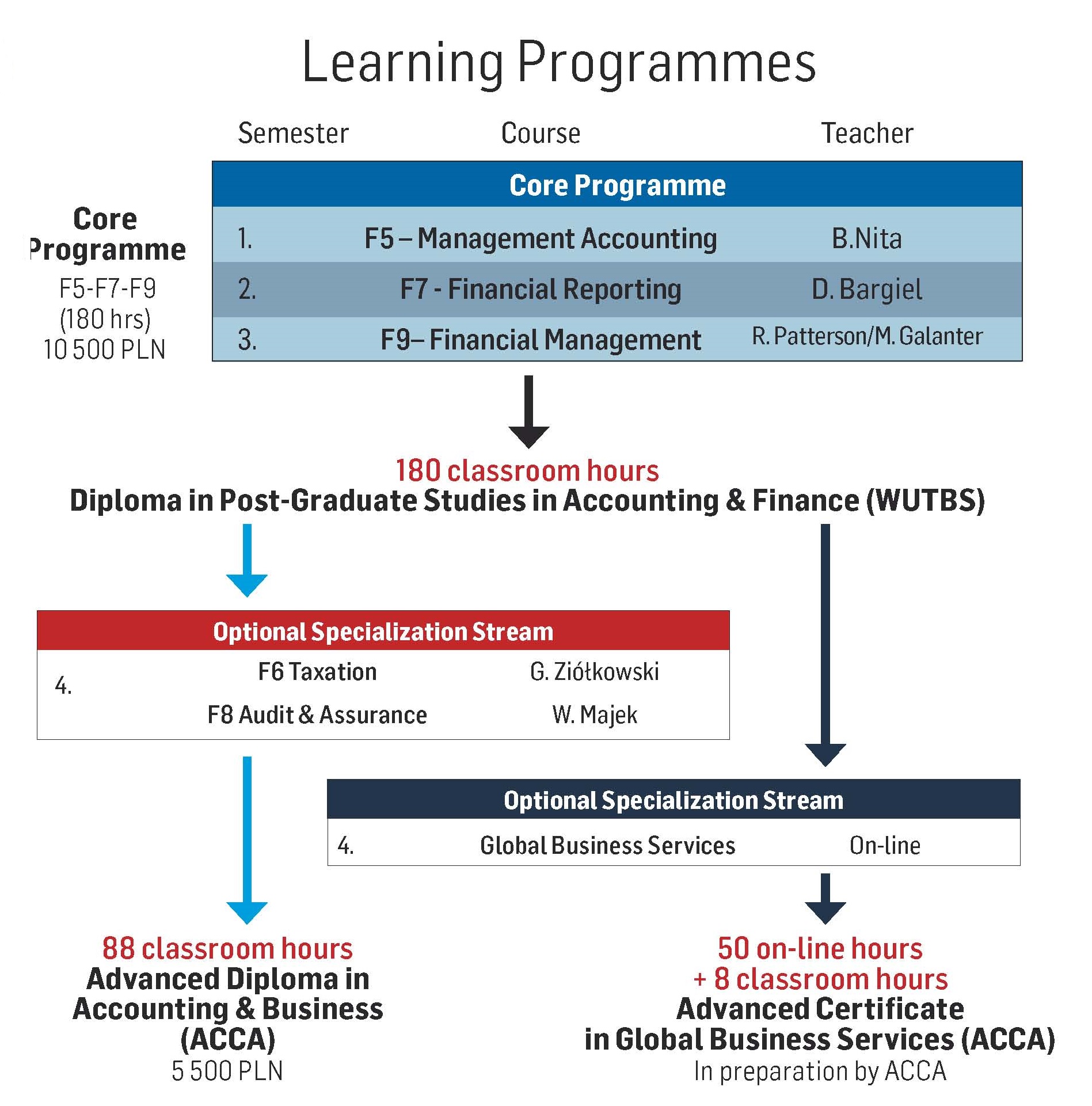 Classroom training outline
Students will be supplied with textbooks and study notes to read at their own pace and when most convenient. This is important and necessary in order to be prepared for classroom work. Students will also be assigned exercises and problem practice cases for completion at home. We consider this important as background preparation and for those committed to succeed it is "a must". The really intense learning will occur in the classroom under the guidance of our seasoned instructors. Four classroom weekends will be spread out over a 3 month period. Each 3 hour exam paper must cover a defined number of syllabus topics. These will be covered in 60 academic hours per course. We will start with 3 weekends or 48 hours to go through the syllabus on a thorough, topic by topic basis. The first two weekends will be conducted in Polish, each weekend culminating with a 1.5 hr test in Polish worth 15% per test. The next scheduled weekend will be conducted in English with another test in English. With this foundational knowledge in place, we will then devote a forth 12 hour weekend to an intense and thorough topic review, calculation practice and examination tips in English. On the following 1/2 day, students will write the 3 hour exam worth 55% of a final grade. The miumum all-in grade to pass each course will be 50%. If necessary, a re-write exam will be conducted soon after if needed. We focus on one paper at a time before moving on to the next paper.
In Poland: Joining the Global Economy One Accountant at a Time